It is easy to install without punching and suitable for smooth surfaces such as tiles, glass, stainless steel, painted wood, and not suitable for cement walls and diatom mud walls.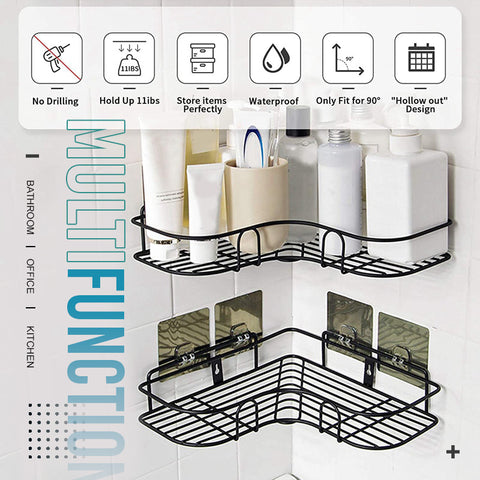 Main Features
[Gird & Space-Saving Design] - Modern and simple gird design corner shelves for quick draining and ventilation. And can be placed in any corner to save space.
[Easy to Install] - This shower shelf uses traceless adhesive to install without punching, avoiding the trouble of punching and damage to the wall. When installed, it can withstand 11lb equivalent to 10 bottles of 250ml water. It is recommended to use it after 24 hours of installation.
[Iron Material] - It is made of wrought iron which gives you a sturdy and durable experience, easy to clean, and corrosion-resistant.
[Multiple Purpose] - You can put toiletries and cosmetics if installed in the bathroom. Store books, notebooks, and pens to keep the office clean and organized.
[Approximate Dimensions (in inches)] - 14.2" diagonal long x 10.5" wide x 1.8" high. The size is manually measured, which does not affect the use.
Multiple places
Bathroom
In the bathroom or toilet, it's used to place toiletries and cosmetics. Such as caddy and towel.
Office
In the office, it's used to place books, glasses, mugs, and easy-to-sprinkles, etc. This corner shelf can also be installed on the balcony to place some potted plants. It is practical both indoors and outdoors.

Kitchen
In the kitchen, it's used to place a variety of condiments, such as ketchup, salad dressing.
Installation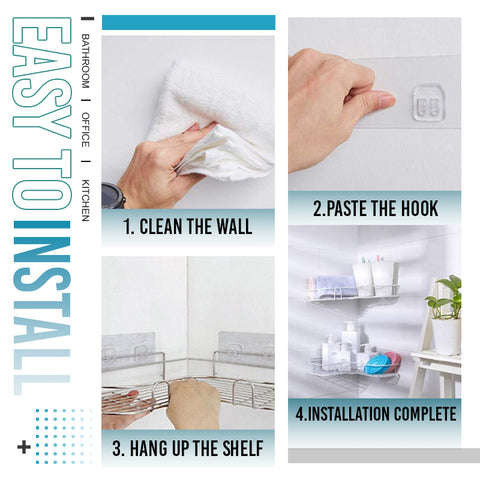 Applicable surfaces
Specifications
Material
Product Weight
Product Size
(L x W x H)
Package Contents

1 × Punch-free corner shelf